[cmsmasters_row][cmsmasters_column data_width="1/1″][cmsmasters_text]
Since the beginning (2014), the Oneplus company was the "dark knight" of the mobile world industry,  Obviously by making what we truly called a "FLAGSHIP KILLER" at a reasonable price.
OnePlus 2020, welcome to the FLAGSHIP-ZONE
OnePlus 8 Pro is the latest and most expensive smartphone the six-year-old company has ever launched.  with the base OnePlus 8 Pro, with 8GB of RAM and 128GB of storage, costs $900, and the fully kitted model with 12GB of RAM and 256GB of storage costs $1,000.For those keeping count, that's as much as the Galaxy S20 and $250 more than last year's top-end OnePlus 7 Pro. OnePlus' price advantage — a key part of the identity the company built for itself — isn't as big a factor anymore.
And YES, the progress comes at a price: OnePlus has graduated from plucky underdog to almost indistinguishable from the rival manufacturers whose prices the Shenzhen-based company used to routinely mock. So, when there is almost no price difference … is it still worth picking a smartphone from OnePlus over rivals from Samsung, Apple and Huawei?
OnePlus 8 Pro is here. And it's all about speed once again.
The speed and fluidity of OnePlus phones has been one of the company's biggest strengths, which is something the OP8 and OP8 Pro showcase in full force. Between a number of OS optimizations and either 90Hz or 120HZ screens (which are a real delight), both phones are a joy to use. Everything feels incredibly snappy, and combined with OnePlus being one of the faster phone makers when it comes to pushing out new software updates, OnePlus phones deliver the best Android experience of any phone not made by Google.
Specs — Just the Right Stuff ..
OnePlus 8 Pro
OnePlus 8
Software
Android 10
OxygenOS
Android 10
OxygenOS
Display
6.78″ QHD Fluid AMOLED
3168×1440, 513ppi, 19.8:9
120Hz
6.55″ FHD Fluid AMOLED
2400×1080, 402ppi, 20:9
90Hz
Processor
Qualcomm Snapdragon 865
Adreno 650
Qualcomm Snapdragon 865
Adreno 650
Memory
Storage: 128GB / 256GB (UFS 3.0)
RAM: 8GB / 12GB LPDDR5
Storage: 128GB / 256GB (UFS 3.0)
RAM: 8GB / 12GB LPDDR4X
Camera (Rear)
48MP Main
—f/1.7, OIS, EIS, 1.12um
—Dual LED Flash
—PDAF + CAF + LAF
—Sony IMX68948MP Ultra Wide
—f/2.2, 119.7° FOV8MP Telephoto
—f/2.4, OIS, 1.0um
—3x hybrid zoom5MP Color Filter
—f/2.4
48MP Main
—f/1.75, OIS, EIS, 0.8um
—Dual LED Flash
—PDAF + CAF
—Sony IMX58616MP Ultra Wide
—f/2.2, 116° FOV
—Sensor zoom 2x2MP Macro
—f/2.4, 1.75um
Camera (Front)
16MP Front
—f/2.4, EIS, 1.0um
—Sony IMX471
16MP Front
—f/2.4, EIS, 1.0um
—Sony IMX471
Battery
4510mAh
Warp Charge 30T
Warp Charge 30 Wireless
Reverse Wireless Charging
4300mAh
Warp Charge 30T
Connectivity
5G / 4G LTE
WiFi 802.11ax (WiFi 6)
Bluetooth 5.1
NFC
5G / 4G LTE
WiFi 802.11ax (WiFi 6)
Bluetooth 5.1
NFC
Other
In-display fingerprint
USB-C (USB 3.1)
Dual nano-SIM
Alert Slider
Dual Stereo Speakers
IP68 water and dust resistance
In-display fingerprint
USB-C (USB 3.1)
Dual nano-SIM
Alert Slider
Dual Stereo Speakers
Size
165.3 x 74.35 x 8.5mm
199g
160.2 x 72.9 x 8.0mm
180g
Colors
Onyx Black
Glacial Green
Ultramarine Blue
Onyx Black
Glacial Green
Interstellar Glow
DESIGN — Luxury to the bones.
OnePlus labels this phone as compact, compared to the phones I'm comparing to (Galaxy S20 Ultra, LG V60), it does feel smaller and fantastic in-hand. OnePlus was big to point out that the phone is hardly thicker than a pencil at just 8mm, where a standard pencil is around 6mm. That's pretty thin.
Sadly, no versions of the OP8 have a headphone jack
DISPLAY — simply the best.
For the OnePlus 8 Pro, OnePlus tossed in a 6.78″ Quad HD Fluid AMOLED display with a top refresh rate of 120Hz. This is the top-spec for a display in 2020. If you are making a high-end phone this year, it better match this or you will be thought of (rightfully) as a step below.
This particular display has excellent viewing angles, where even steep off-axis viewing provides crystal clear colors. It might be better than Samsung in this area, which is huge for those of you who look at your phone as it lies on a desk all day. With colors, you get to customize that experience with Vivid, Natural, or Advanced options. Advanced lets you go wild with Wide Gamut, sRGB, or Display P3 modes, should that be a thing of interest. I left my review device on Vivid and love the punch and sharpness.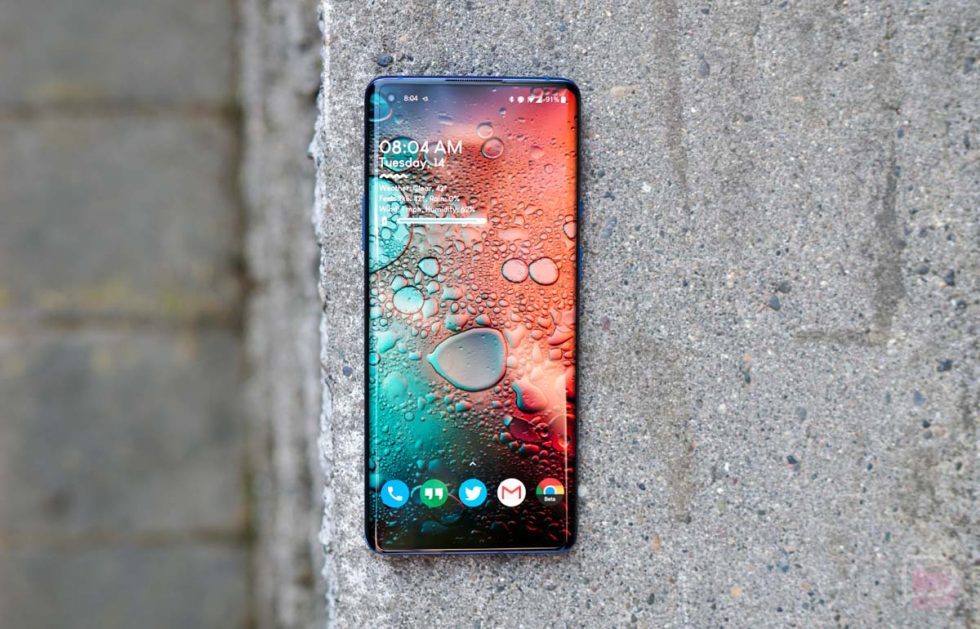 Is 120Hz as cool as you hoped? Yes, it is. Coming from a Pixel 4 XL with 90Hz and a Galaxy S20 with 120Hz, I'm so enjoying this world with high refresh rates. I can't ever see myself going back to 60Hz for an extended period of time. The world on your smartphone looks better when everything is smooth at all times.
Additionally, OnePlus once again included a number of display options that I feel should be standard on all phones in 2020. It has adaptive brightness, but you'll find a "Comfort tone" setting that adapts screen color based on your environment, video color enhancing and smoothing modes, and Night and Reading modes.

CAMERAS — Agh .. it's not enough.
OnePlus phones usually had one big caveat: The cameras were never that great. That's starting to change though. I'm not going to say that the company nailed it this time — some of its decisions are certainly questionable — but overall we're looking at big improvements where it matters.
You'll spend most of your time with the 8 Pro's standard wide camera, so it's a good thing that OnePlus clearly paid the most attention to it. Oneplus went with Sony's 48-megapixel IMX689 sensor, with optical image stabilization and an f/1.78 aperture, but don't be fooled: You're much better shooting 12-megapixel stills instead of full-resolution whoppers.
The setup here is a 48MP main shooter at f/1.7, 48MP ultra-wide angle at f/2.2, 8MP telephoto at f/2.4, and a 5MP color filter lens. I still have no idea what the color filter lens is doing after two weeks of testing, but I can tell you that the main and wide-angle cameras are excellent.
The selfie camera works well enough, but you're going to look pretty soft in anything less than ideal light, and a built-in macro mode can be helpful if you're taking incredibly tight shots. It's not necessary all the time because the main camera does a nice job when you're right next to your subject, but the extra processing does bring out some of the finer details.
BATTERY— finally a fast wireless charge made by Oneplus.
I don't know if it's because I've been waiting for Oneplus to implement a wireless charging solution on its phones since the Oneplus6, but dear readers, this phone gets what I was looking for – a RAW 30W WARP CHARGE- Thank goodness.
One of the big upsides of OnePlus' many tweaks and optimizations is that the OnePlus 8 and 8 Pro really sip power when doing things like watching videos— something that allowed both phones to turn in some of the longest battery lives.
However, in real life if you're connected to 5G or you have 90Hz or 120Hz mode turned on, you're looking at at least two to three hours less of real-world runtime, especially if you enable 120Hz mode at the OnePlus 8 Pro's max QHD+ resolution.
CONNECTIVITY — Obviously its about the 5G .
For connectivity, OnePlus has mostly knocked this out of the park. You have LTE and 5G connectivity where you will need it. I know that it doesn't have 5G mmW support, but 5G mmW is stupid and a waste of worry. This phone connects to mid-band and low-band 5G, which is all you will ever really need to care about for the next several years.
The OnePlus 8 Pro also has Bluetooth 5.1 and WiFi 6 (802.11ax), so it's as ready for the future of connectivity as any device on the market.
COLORS — Few choices but well-chosen ..
The OnePlus 8 Pro comes in black, a deep ultramarine blue, and a new light green which is by far my favorite of the three, though "green" can seem like a misnomer: Depending on the light around you, the finish varies from seafoam to teal, which you'll probably notice in our photos.
SIDE NOTES :
On top of being available unlocked, the OnePlus 8 will also be available from both T-Mobile and Verizon.
The carrier versions of the OnePlus 8 have a few differences including official IP68 water resistance and support for mmWave 5G on Verizon.
On the more premium OP8 Pro, OnePlus has finally added Qi wireless charging, which is really fast when paired with OnePlus' 30-watt wireless charger.
The OnePlus 8 Pro feels a lot like a cheaper version of the Galaxy S20+, in a good way.
While they sound neat, the OP8's macro cam and the OP8 Pro's color filter camera aren't really all that useful.
Pre-orders for the OnePlus 8 and 8 Pro are live, with devices officially going on sale on April 29th.
Verdict: OnePlus finally made a flagship phone flagship features and a flagship price.
The 8 Pro stacks up surprisingly well against the best the industry has to offer. It used to be that OnePlus phones were excellent because of their value, but don't get caught up in that line of thinking.
The OnePlus 8 Pro is an excellent phone, period.
[/cmsmasters_text][/cmsmasters_column][/cmsmasters_row]